Be sure to watch this video for a quick introduction and overview of Watercolor FUN-mentals!!!
WELCOME TO
WATERCOLOR FUN-damentals
WATERCOLOR for BEGINNERS
Painting with watercolors can be FUN or frustrating.
In this class you will learn the FUN-damentals that take the frustration out of this wonderful medium.
With a few paints, a couple of brushes, some watercolor paper, and a little bit of water I am going to teach you how to make art with watercolors.
You do not need any prior knowledge of art or watercolor. I will cover the basic foundational techniques. You will learn how to avoid making soggy, muddy messes.
By the end of the class, you will have 6 frameable pieces of art: 3 landscapes and 3 still life paintings.
Let's get started!!!
Class Benefits:
In-depth but FUN instructions
On demand video access anytime
Paint at your own pace
Almost 6 hours of instruction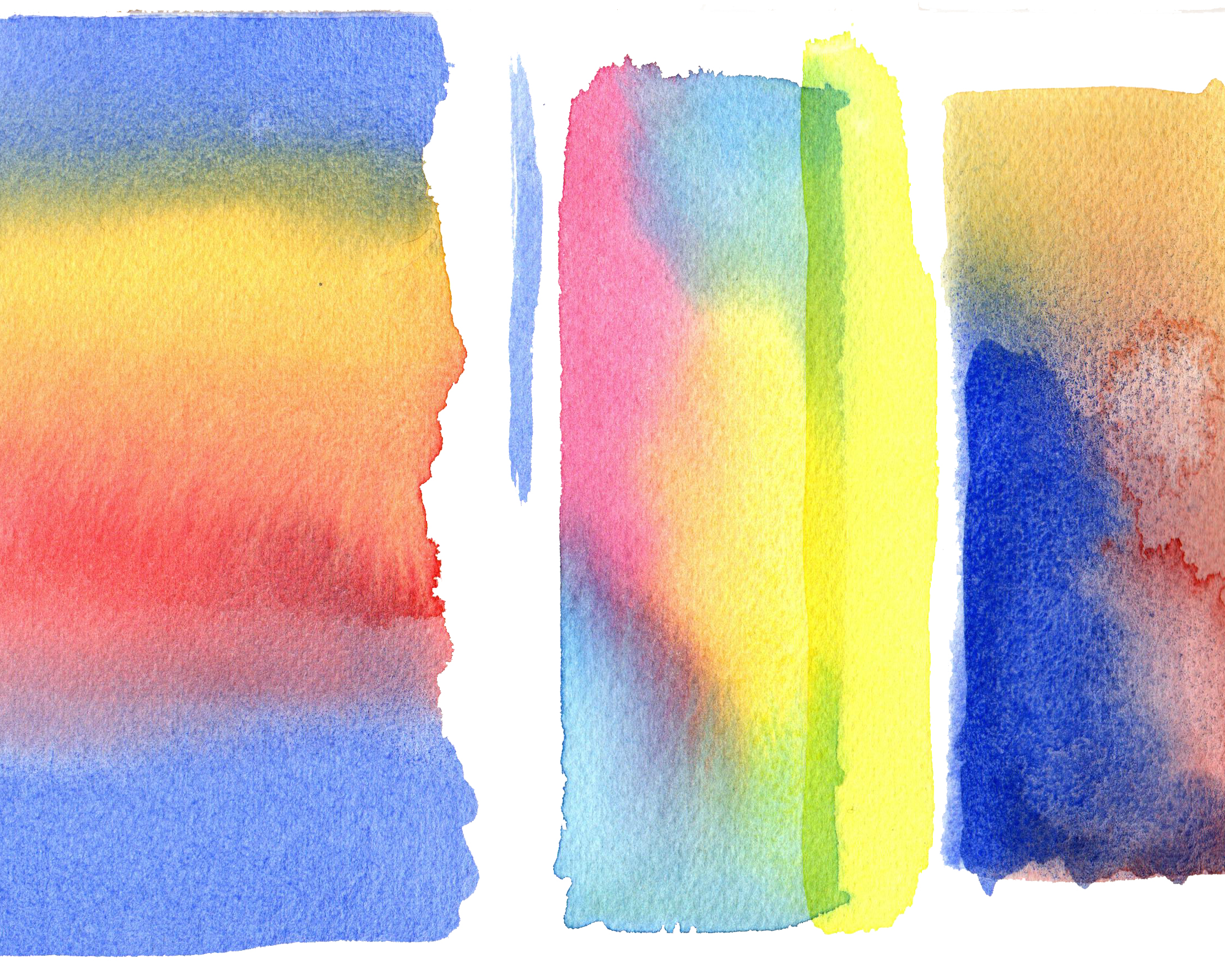 In the first section you will learn how to prepare your palette and get familiar with your colors.
I will teach you a variety of techniques including various washes, color mixing, values, and consistency of the pigment. You will also learn how to avoid muddy colors, blooms and boo boos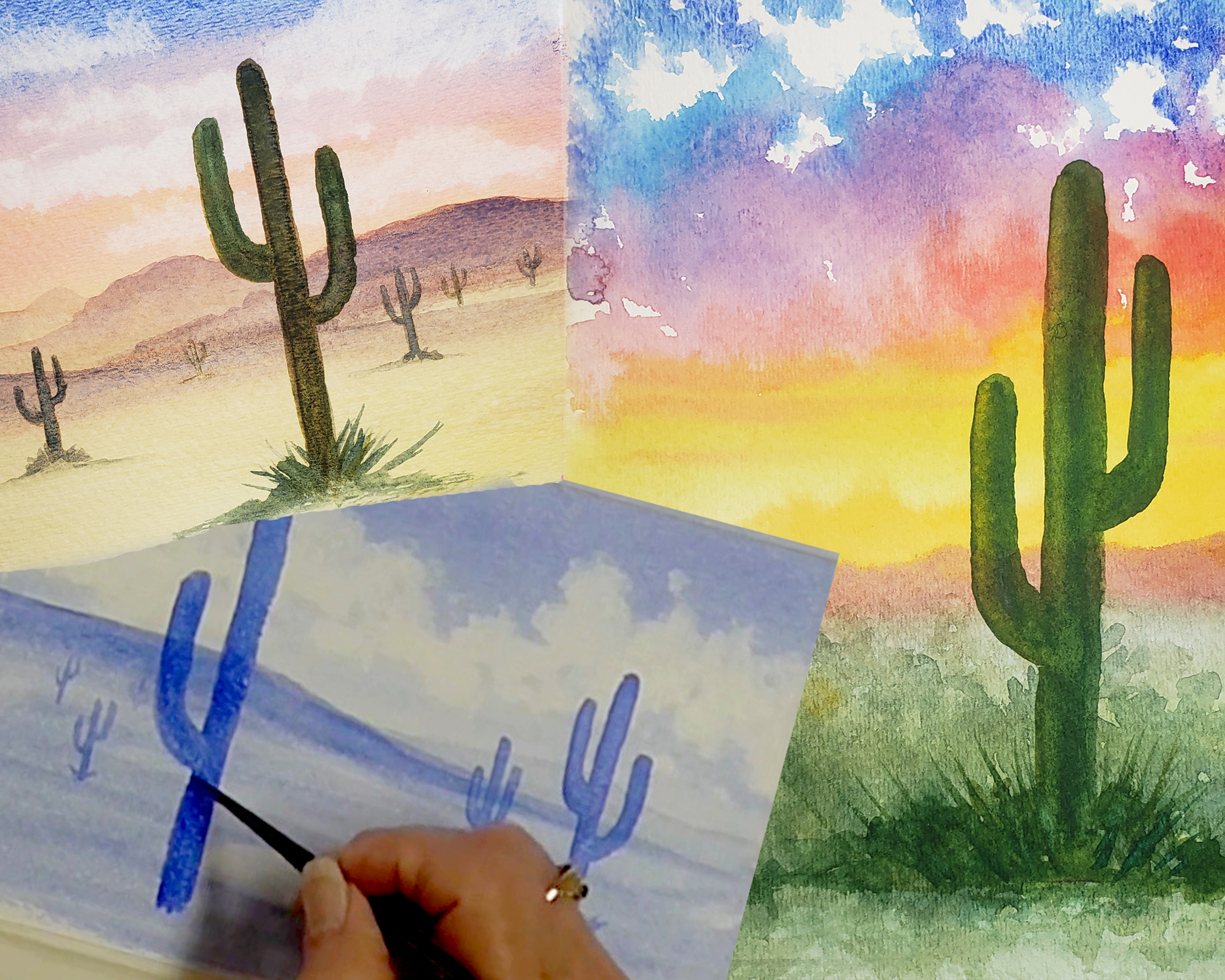 In the second segment of this class we will paint 3 very simple and easy southwestern landscapes with cactus.
The first painting with be monochrome - one color only! The second cactus scene will use only 3 colors! And the third painting will use all six of our colors.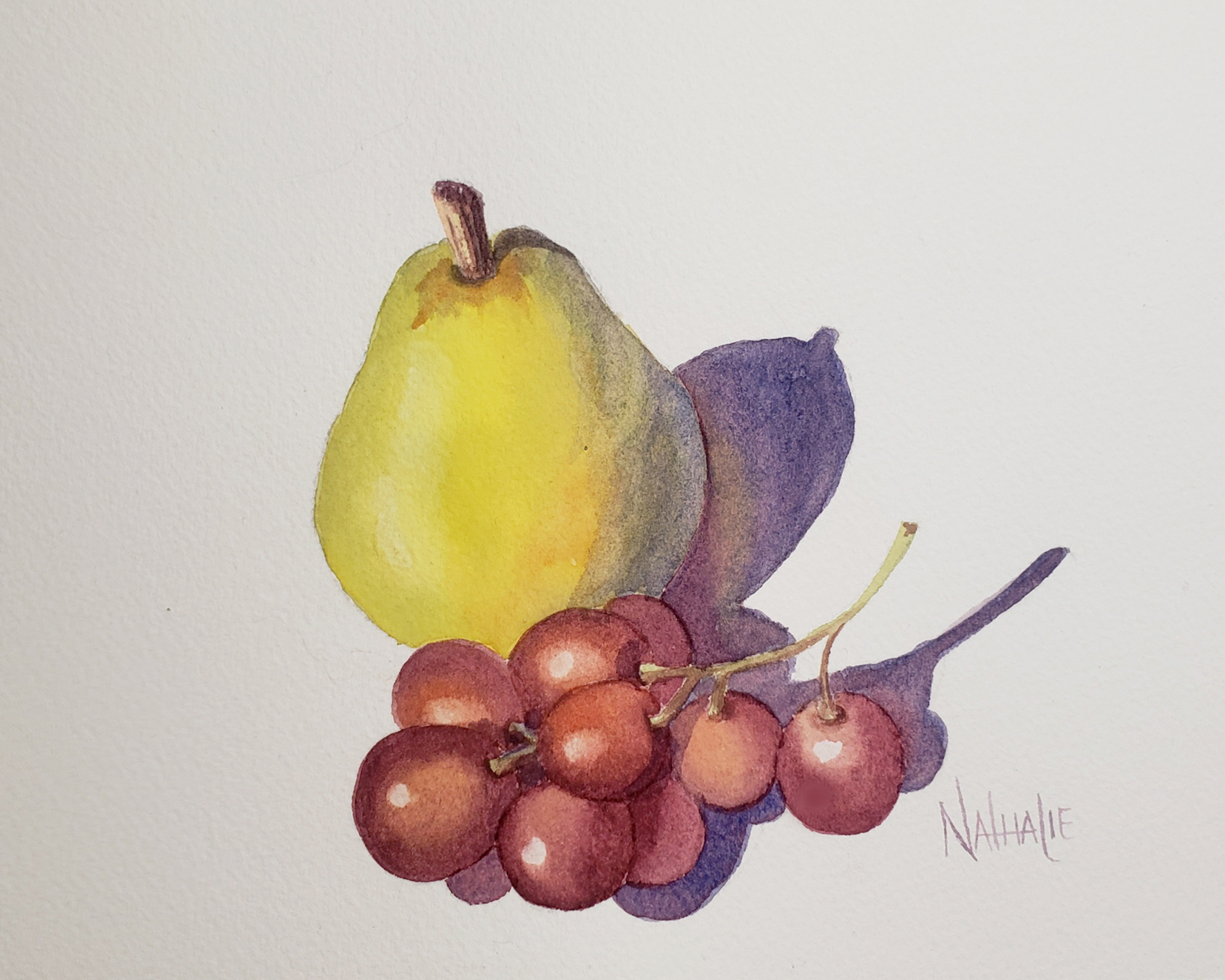 In the last section of the class you will use the FUN foundational techniques to paint a single pear. Next is a cluster of grapes. Then final piece is this single pear and a cluster of grapes together. In this section you will also learn about the importance of shadow and light.
Frequently Asked Questions
When does the course start and finish?
The course starts now and never ends. You decide when to begin and when to finish. It is self-paced.
How long do I have access to the course?
You have unlimited access to this course for as long as you like. Use any or all of your devices to access the course.
What if I am unhappy with the course?
I want you to have fun and not be unhappy so if that happens and you are unsatisfied contact me within the first 30 days of your purchase and i will give you a full refund.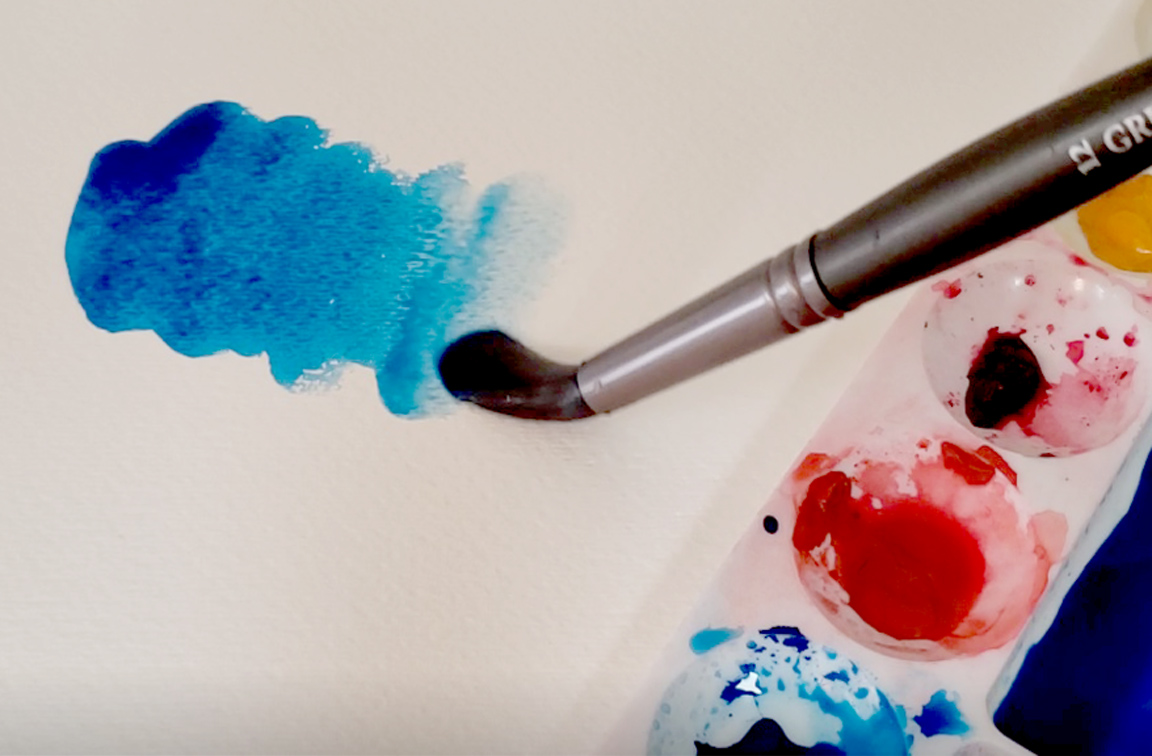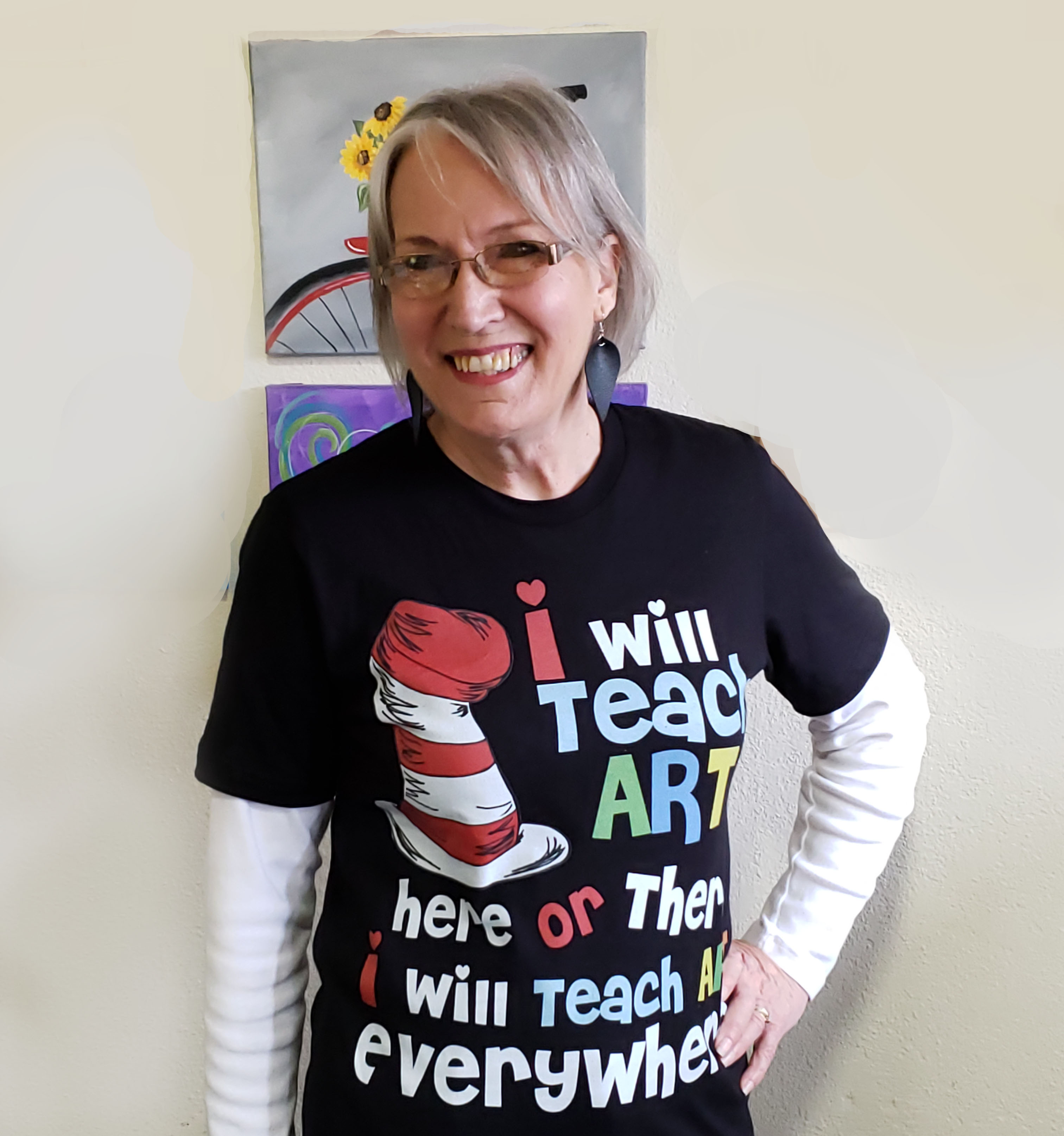 Meet Your Art Teacher!
Nathalie Kelley
Hey there, I am Nathalie. I am so glad you are here.
Being a child and grandchild to artists, I grew up painting and surrounded by art. Our medium at that time was oils but in the mid 1990s I was captivated by the beauty and challenge of watercolors. In 2010 I opened my own studio and began teaching others how to paint with watercolors. That same year, I began competing in watercolor art shows. To my delight, I have won many awards and am able to call myself an award winning artist!
Although I love the competition aspect and hold two watercolor signature statuses, my passion is teaching others what I know about this wonderful medium. And I also love pushing my art students out of the nest to fly and find their own artistic voice.
Check your inbox to confirm your subscription